My mom first made these white chip orange cookies when I was really young. She told me, "Don't ask what is in them until you try one." So, obviously I was curious, and what child doesn't want to eat cookies?! I couldn't believe the taste - they were amazing! The ingredient? Orange zest. Now, I know that doesn't seem crazy now, but when I was ten years old, the idea of putting orange peel in a dessert was extraordinarily odd.
These cookies have been the favourites of every single person I know, from family members, friends, roommates, and my boyfriend. I have not met a single person who dislikes these cookies.
Feel free to substitute coconut oil for the butter. It does change the texture and taste a bit, however they are still delicious!
Hey all - sorry I've been MIA lately, it's been a busy few weeks! In the past three weeks, I have:
1. Finished my exams and third year of university
2. Took three trains (five hours each)
3. Spent three days in Toronto shopping and seeing a Blue Jays game with my mom and sisters
4. Flew to Saskatchewan
5. Drove to Edmonton, Alberta, and back
6. Had my FIRST naturopath appointment!!!!
7. Settled in to Swift Current, Sask. for my summer home with my boyfriend
8. Started my first week of work!
I've been busy. But I've also been able to make some delicious foods to tell you about :)
First though, news about my naturopathy appointment! So, long story short, my digestive issues are not being caused by my digestive system. This year in my anatomy class, the main idea we had to remember was that every single system in your body is linked. When one part of your body isn't functioning properly, you see symptoms of it throughout all the other systems. These symptoms also change from person to person, so it is often hard to identify what is actually the cause of the symptoms.
I found out my constipation issues are actually caused by my kidney functioning. I am deficient in iodine, a critical element for our functioning. Many landlocked people are deficient in iodine, since the main sources of iodine are fish, seaweed, kelp, and shellfish. Because of this iodine deficiency, my electrolytes are being expelled through my urine (as well as water soluble vitamins, such as vitamin C). This is causing my kidneys to take extra water from my digestive system and bowels, resulting in hardened waste and constipation. So, what now? I was given an iodine supplement, and an electrolyte solution, and I've already seen improvements. Amazing! I can't wait to treat people like this. My mind is absolutely blown.
Keep on reading, there's recipes on the way!
I love exam period. Having to leave the home for summer vacation gives me the most perfect excuse to not buy groceries and instead buy delicious gourmet pizza and homemade bagels - mmm!
gemarack said: Howdie, I was wondering if you could add two more categories to your food, fast and cheap, simply because some people have not the time, and some people simply don't have the means to always get the best. Love the recipes!
You see…

…you say people don't have the time.

Why do you think I'd have the time…

…to check every recipe if it's fast and cheap?

@davidtennantspants said: Because you run a food blog..? There's no need to be rude to someone simply because they'd like to be able to easily find recipes they can afford to make.

Oh yes, and running a food blog means you automatically have free time to check every recipe ever posted (24 a day, do the math) AND you have knowledge of ingredient prices all over the world to be able to check if a recipe is cheap.

If to 'easily' do something you're asking for an impossible task out of someone else, then yes, there is an excuse to be snappy in response.

Thank you.

I think all of you could see by now that I never insult anyone on purpose, or be rude or something. I liked this smoking gifs. And yes, I really can't check recipes for their speed and cost.

I started this blog for myself, I like looking at pretty pictures of food, and I thought it would be nice if there was a recipe, too, for those who'd like to try it.

That's all.

Love you all :)
It helps to know that you made this blog mainly for the aesthetic, pretty pictures of food. I started following you under the impression you were a professional in the culinary arts or at least made the majority of the recipes you posted. I think many of your followers would benefit from knowing this is your hobby rather than your profession. Thanks for all the great recipe ideas! And the pretty pictures of food are the best!
Pan-Charred Green Beans with Tarragon (Dill)
Here is the wonderful green bean side dish I've been telling you about. I got the recipe from the April 2014 edition of Cooking Light magazine - I was skeptical about the recipe at first, because usually when recipes tell me to "lightly char" something I end up burning it. But these green beans are the most delicious green beans I've had yet! Not to mention healthy, too (if you substitute butter for coconut oil, as I did)!
They use tarragon as the herb in the dish, however I am not a huge fan of tarragon and instead used dill. If you're a lover of dill, you HAVE to make this recipe with dill. So amazing!
Happy weekend!
I know how irritating it is to look up recipes for a dish and have thousands of recipes pop up, and never actually knowing which one you should go for. There have been times when I have automatically gone for the more complex one with a bunch of different ingredients, and have actually enjoyed the "10-minute 3 ingredient!" ones better.
One thing I love about food blogging is that I can make these recipes and tell you how good they were! I can also tell you tips and tricks, and mistakes or alterations I had made.
So, I made this recipe from Just A Taste, one of my favourite food blogs - Slow Cooker Honey Garlic Chicken. I'm an absolute sucker for honey garlic sauce, and I've been wanting to try this recipe for ages. But it calls for blackberry jam! I have only ever come across pure blackberry jam at a local market, and it was almost $8 for a teeny jar. Not to mention that I don't need anything else that I can put jam on. However, I did find the perfect amount of raspberry jam in my fridge, and used that instead of the blackberry jam. I also used boneless chicken breasts, but next time I'm definitely going for bone-in. I'm trying to eat meats with the bones still in them from now on, since they are so much more tender and juicy.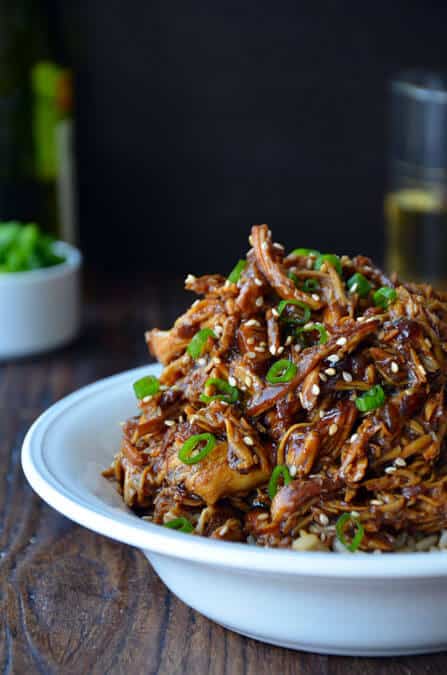 Trust me, this recipe is GOOD. Yes, it's a bit more complex than most, with the hoisin sauce and jam and honey, however its definitely worth it. And there's so many more uses for hoisin sauce, so it is a great buy! I had this chicken with my favourite new green bean side dish - I'll post it soon!
Keep loving life!
I love holidays. Every holiday - even pseudo-holidays, like Valentine's Day, St. Patrick's day, half-birthdays, you name it. Give me an excuse to make themed dishes and decorate, and I will!
Growing up, one of the best things about holidays were those soft-baked sugar cookies you would get from the grocery store - decorated with icing and sprinkles, different for every holiday! I don't know what it is about those sugar cookies, but they are absolutely addicting.
And now, I can make them myself! This recipe for these soft-baked sugar cookies is so incredibly easy - no cream of tartar, no refrigerating the dough - just mix everything together and throw them in the oven! And of course, decorate with way too much icing.
Aren't these adorable? Perfect for St.Patrick's day. These ones are mine:
Look at the cute little eater egg sprinkles! I love blue. I love Easter. I love sugar cookies.
Happy Thursday everyone! And happy half-birthday to you folks born on October 10th! And happy unbirthday to everyone else :)
It was the last day of classes yesterday! I have officially completed all my third year classes - now I have five exams to get through before I'm done third year!
I had a big Biochemistry paper due yesterday, and wow, does it ever feel nice to get that off my shoulders. After I handed it in, I came home, baked some delicious (unhealthy) goodies, and watched TV shows for the rest of the night!
Unfortunately, I did these things by my lonesome, since my boyfriend still had a lot of school work to do. He ended up staying up all night completing it. But now he's home sleeping, and we are both assignment free!
Here's a recipe I thought I'd share with you that has been a staple in my diet for the past week or so: chia seed pudding!
I go through Greek yogurt incredibly fast, which is a problem because it's not exactly on the cheap side. Luckily, I have found an amazing replacement - the only downside to chia pudding is that it doesn't have the bacterial cultures in it that yogurt does.
But it's sooooooo good. And so easy. For the milk, I used unsweetened almond milk. After it sat in the fridge for the night, I added a bit of vanilla extract to it, and it was super delicious! Not to mention all the fiber you are getting in a serving of this. Hey, maybe you could mix it with kefir, then you could have chia seed yogurt!
More recipes to come later! Happy Wednesday!
It's the last day of class for my third year of university. I bet you can't guess how I'm going to celebrate - baking!!!